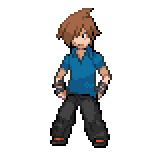 Everything you need to know about the Main Protagonist.
Background
Edit
The hero's parents were big Pokémon Trainers back in the day, and after completing highschool, he chose to follow in their footsteps and become a Trainer. They arranged for him to receive a Pokémon from the local Professor which starts his twisting and turning journey.
The hero is a 17 year old, sarcastic, smart-mouth. He is playful, sassy, and clever, as well as mischievous. He leaves home to start his adventure into the unknown world, trying to become a Pokémon trainer, and hopes to one day reach Battle City. However, little does he know, he will be enthralled into one of the most controversial, and craziest scandals in the whole region of Lithos! (The hero can dress as a woman, to cater to female fans.)
In Battle
Edit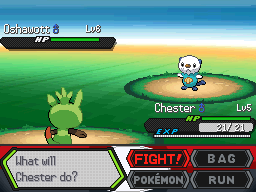 Different than most games (or at least the traditional Pokémon Games) there is no trainer backsprite; its a convienence factor due to Outfits, but also due to the fact that it looks weird to see half of the trainer, and then see the pokemon be as big as the player - this remedies this, as well as keeps to the original battle system, of only seeing half of the pokemon.
Vs Sprites
Edit
Vs sprites come in 2 designs, which makes 3 catagories for a trainer. The first category is the generic, run-of-the-mill trainer. These trainers just battle you and are in most places - there is nothing special about them, and no Vs animation is shown.
The second category is a Notable Trainer, these ones have a unique Vs sprite, as well as custom backdrop. These include Gym Leaders, goons, etc.
The final category is an Important Trainer, these are few and have a unique lightning bolt design as a backdrop and a unique Vs sprite. These include Gym Masters, high admins, etc.
A Dark Side
Edit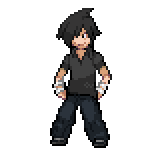 Everyone has a shadow, a part of oneself whose personality is dark and twisted. Regardless of how pure someone is, they cannot escape the grasp of the darkness that sourrounds them. The player is no exception. As good, heroic, kind-hearted, and pure the player is, he is not excluded from the darkness that lives within the souls of us all. But how will his dark side play a role in his journey?